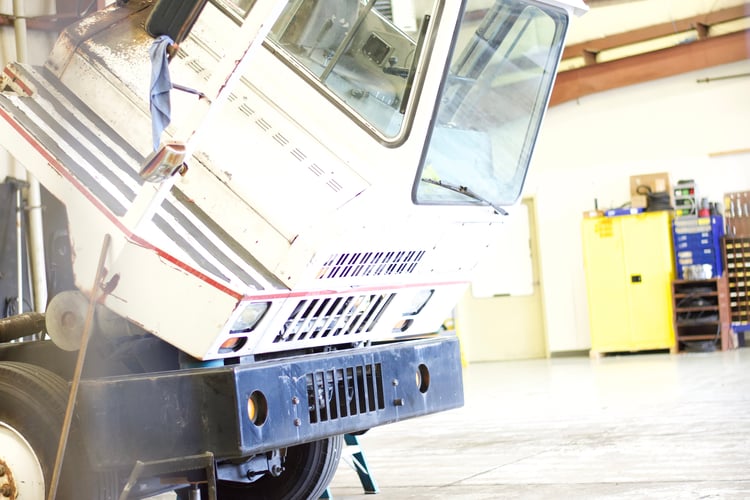 We have recently expanded our Ottawa truck refurbishment capabilities because of increased demand. After all of the loading, lifting, and heavy usage, your truck may show signs of age and will eventually need parts to be replaced. If your yard truck needs attention, these are all of the reasons you should refurbish instead of buying new.
Long Term Benefits of Refurbishing
As an Ottawa Sercive Center, our refurbishing process is thorough. It's a 6-8 week process where we partially disassemble the truck to facilitate effective sandblasting and painting, and only replace what needs to be replaced and nothing more. Whether you have owned an Ottawa for 5 years or 11 years, we can refurbish it back to nearly new. When your truck begins to show wear and tear, you can save money by refurbishing it instead of buying new. We can guarantee that our repairs will save you money and your refurbished truck will have another lifespan.
A refurbishment is just another option we offer our customers. You can call ahead to schedule service and we can pre-order parts, or you can come tour our facilities and meet our service techs to see what we're all about. Here's our latest Facebook live video tour of our shop floor led by Don.
Louisville Switching is Customer-Centered
Our promise to you is that no matter what the condition of your truck is when it enters our shop, it will leave looking and operating like a whole new truck. Our process eliminates charging customers for parts they don't want or need. When we thoroughly appraise your truck, we can suggest all of the areas that could be updated, but only service what the customer asks for.
We sell new and used trucks and also offer renting and leasing options for your needs and convenience. Our leases are flexible. You can lease month-to-month or you we offer yearly leases from 1-5 years. We also sell OEM Ottawa parts from our parts department, which is stocked with thousands of parts that we can ship most parts next-day air.
Help us reach 50 YouTube subscribers! You can stay updated on the latest Louisville Switching news on our YouTube channel. Here's one of our videos that provide an overview of our refurbishment process.