One of our favorite things to do at Louisville Switching is to try new restaurants and enjoy the incredible food that's in Louisville. We recently attended a beer dinner at La Chasse and were so blown away by the experience that we wanted to share about the restaurant with an exclusive interview with the restaurant's owner, Isaac Fox.
La Chasse is a fine dining restaurant in the Highlands Neighborhood of Louisville, Kentucky. If you look on their website, the appeal begins immediately when you read that, "La Chasse showcases Chef Andrew Welenken's intricately-woven Southern French and Spanish fusion menu that is prepared with classic French technique and exuberant innovativeness." If that doesn't make you hungry, maybe the pictures below will.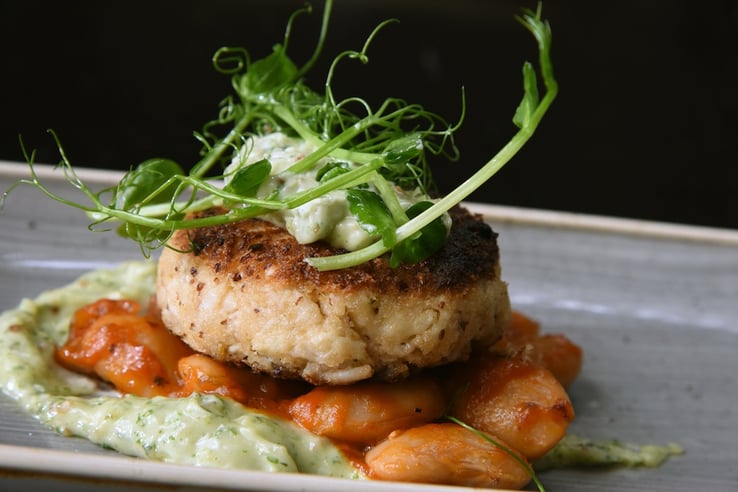 Give us a brief overview of the restaurant history and how you started it.
"I've been in the restaurant industry for years and met my wife in the restaurant industry. We always had a goal to open our own restaurant. I was very fortunate, about three years ago, to have met a chef who is my age and who was interested in getting out on his own as well. I was also fortunate to have met a couple of people, some of whom I had known for several years, who became restaurant regulars of mine and friends who were willing to invest. We began talking future plans and just a few months into talking, this space became available.
We had ideally wanted a small, cozy location on Bardstown Road, so it seemed like an ideal opportunity and we jumped on it. A lot of other people were looking at the space, I was amazed that we got it, but the owner of the building liked our concept and gave us a chance. So, we signed the lease. We did open on a very small budget, so we had to open quickly to get revenue flowing. We opened in 90 days (lessons learned the hard way). That means full gut and remodel, licensing, products, staffing, financials, permits, everything. It was insane."
When did you open?
"We opened October 15th, 2015. The chef that opened the restaurant with me ended up going elsewhere, I believe he is now at Makers Mark- they opened their own restaurant and he got a fantastic position there. I was really fortunate to find Andrew Welenken from The Brown Hotel. He had previously been running the English Grill there. I know I'm a little biased but he's been killing it. Absolutely fantastic food."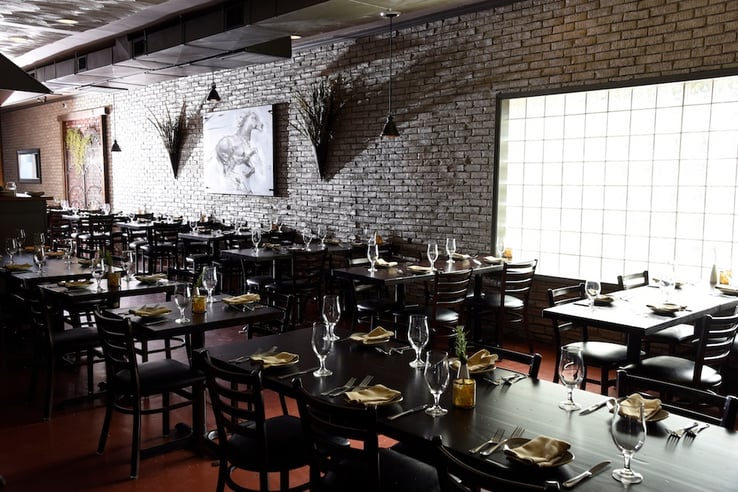 Tell us about the concept.
"La Chasse means "The Hunt", which had several meanings to us when we opened here. The name is French, although we are not strictly French. I would describe us as very European in our field. Also, my idea of French is different than most people in the states. When we think of French dining, we think of white tablecloths, tiny portions, waiters with bow ties, sort of pretentious, often overbearing approach. But when I think of French food, I'm thinking Provence, I'm thinking Southern French food. I'm thinking roasted meat, wild game, fresh herbs, farmers markets, that kind of thing.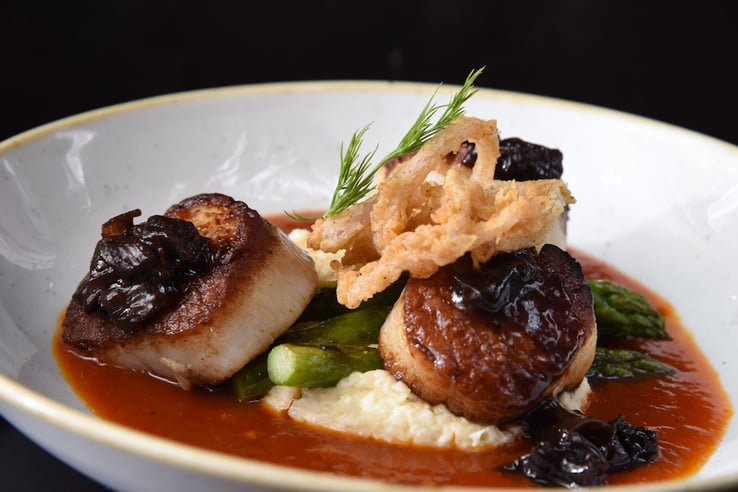 Because of that, we've always had a certain influence of game on the menu, so you'll find rabbit or duck, or wild boar regularly. Nothing unapproachable, but diffidently more down to earth. We also have a 100% wood-fired grill. We are one of the very few fine dining restaurants in all the states that do that. I only know of 2 others. We use 50% white oak and 50% cherry and every grilled item comes off of that. No gas grills. The flavor plus the aroma when that grill is up and running is just fabulous."
What could a customer expect while dining at La Chasse?
"Our wine list, our cocktail list, and our beer list is all curated to fit our theme and our food. For instance, on our wine list, you won't see a ton of Napa Valley Cabernets. Instead, you are going to see a lot of Rhone Valley wines from France and wines that have some earthiness to them, things that fit with our more rustic food. I think the word rustic sort of captures and encapsulates what we do here.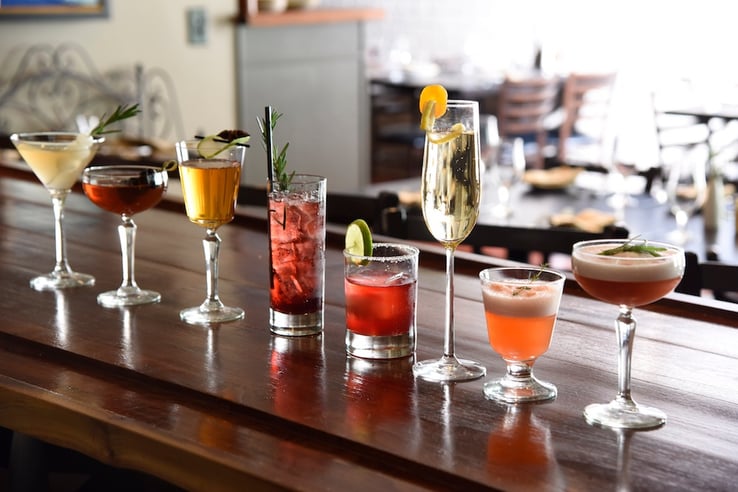 We wanted to set really high standards for ourselves so as far as our food, beverage program, and our service, we try to be 5-star fine dining all the time. But you won't find white tablecloths. What you will find though, is that we're going to follow the correct steps of fine dining service, but without it being pretentious. I want those steps of fine dining service to disappear at the table. They're being done, but you don't notice them. You just know everything was what you needed.
We're in Kentucky, it's southern hospitality. We can't have the days of the intimidating pretentious wait staff- I don't mean that in a negative way. People used to enjoy going to those restaurants. You're wealthy, you've got a great bottle of wine, you get great service. But we still have to remember southern hospitality and the fact that the market has changed. Everyone likes a more friendly, down to earth approach. So, we try to strike that balance.
I would say to wrap that up, what we want you to feel when you come in here, is that you've stepped into a European countryside inn and you get the best meal and the best cozy service that you can imagine. I was trained years ago to believe, and I really took it to heart, that hospitality means "what would I do if you were a guest in my home?" So, if you are in my home, I can guarantee you I would care for you better than anywhere else you can go. But never with pretension or snobbery.
When you come in, its wood tables and brick walls. It feels like you stepped out of Louisville for a while. You're getting food that is not intimidating, its rustic, it's delicious and at the same time getting that fine dining, really quality service that goes along with that. That's our mission."
What typical things can you find on the menu?
"Having said what I just said about what to expect, I don't want the menu to sound overly heavy. Of course, we are in colder months right now so certainly, it's a bit richer. The hunt means 3 things: wild game, hunting for the best organic and local ingredients, and the freshest we can get. You will see when the spring menu comes into play that it will be lighter fare, but still have that rustic quality with the freshest local ingredients we can find. The 3rd aspect for us is a personal hunt for perfection for what we do.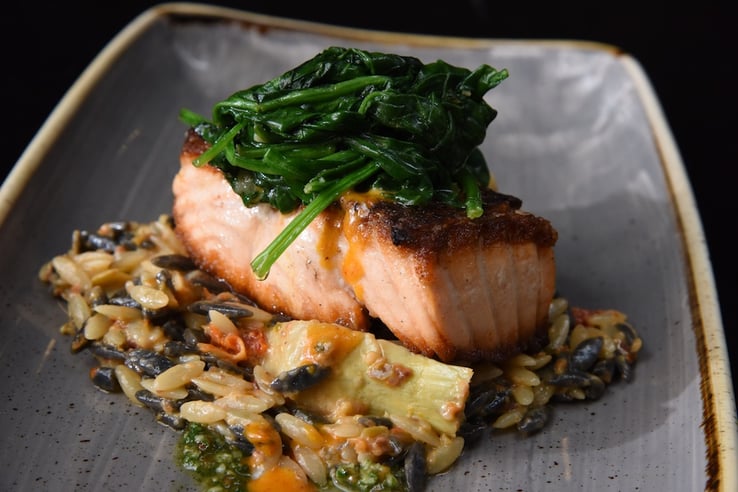 Our menu is fairly small. We have 8-9 appetizers, 3 salads, and about a dozen entrees. We do change the menu seasonally. It gets at least 4 full changes a year, if not more, that are fairly drastic changes. We also run multiple nightly specials, based on what is fresh and great that we could get in. I know our Chef is braising some short ribs back there right now, so that's why it smells so good. We had some terrific fresh grouper over the weekend. So, you will always find 4-5 specials.
We have a killer dessert and pastry program. We house-make cheesecake, sorbet, ice cream, everything is done from scratch. We have a lot of seafood on our menu, including the best crab cakes you've ever had. We always keep at least one awesome vegetarian entree on hand as well as some salads and appetizers that are vegetarian. We've also designed the menu to be extremely accommodating to gluten-free customers. 50% of the menu is gluten-free and another 25% can be made gluten-free without sacrificing any flavor.
When you look at cultures, European or otherwise, when you look at more traditional food, one of the things you see is interesting ingredients and you see parts of an animal being used that we don't typically eat now. Some of that came out by necessity. While it's not common, it's extremely delicious. So, we try to keep some of that. For example, we have sweetbreads, the thymus gland right below the brain. It can be a little scary for people but it tastes like the most delicious, tender little chicken nugget- I love them. We do escargot, which is a very common French fare. We have done sea urchin, raw ceviche cut from live to order. The Poisson is the small French chicken- a whole hen roasted and stuffed on our wood grill with a house-made pomegranate bbq glaze.So, we've done some really out there things. Not to be so geeky that it's unapproachable, but we like to keep a few fun items here and there."
Tell us about your events. What you have done in the past and what do you have coming up?
"We are open Tuesday- Saturday for regular dining service. Mondays, we are closed, but about 2 Mondays a month we will host a reservation only, pairing dinner that features a special menu and has one seating, at 7 pm. It is usually 5 courses paired with 5 wines etc.
As a past beverage director, I've always enjoyed doing wine dinners. So, I tried a couple here and was really pleased with the response we got. We got a good crowd and realized it needed to become a staple of what we do here. While we've focused on wine in the past, we've had some very successful cocktail dinners. We just did a tequila dinner, and we sold out. And its tequila- bourbon I'd understand.
I've been a craft beer geek for years, and have been wanting to do a craft beer dinner here. I was honestly nervous about it because our wine dinners have grown to the point where we have so many regulars that come. From the moment I post about it, we are half full already, the same people come back often.
Since I know everybody who comes to the wine dinners are not beer drinkers, I was a little nervous. But instead of dumbing it down, we decided to push it even more toward the wine direction. We did barrel-aged sours and beers that are really off the beaten path. It was a smaller turnout, but one we hope to grow. Of all the dinners we've done here, as far as how the food and beverage paired, and the response we got back from the tables, I'd say it was in our top 4-5 dinners out of the 60 diners since we've opened. I was so excited about it! Of course, Don was a big part and was super thrilled, he and his wife, love them both.
We said we have to do this again and will tap into the craft beer community more by offering 2 beer dinners a year. We have one in the works for later in the year with Blackberry Farms who create limited and delicious Belgian-style craft beer. The date is not set, but will be announced.
There is another dinner coming up February 26th. It's called Wine Country Women of Napa Valley. There is an author named Michelle Mandro. She recently published a book called Wine Country Women of Napa Valley. It's about these amazing ladies in Napa Valley who either own wineries or are the winemakers. It's a gorgeous coffee table book with beautiful photos and bios of these ladies as well as their favorite family recipe that goes with it. They also suggest a pairing with one of their own wines.
We've got Michelle coming in on the 26th, and Chef is doing his take on some of her favorite recipes from the book paired with the wines and Michelle will be here doing a book signing. We're going to do a similar dinner here with her again in April but we will also have 4-5 of the winemakers present who will be in town for Derby."
Where does your passion come from?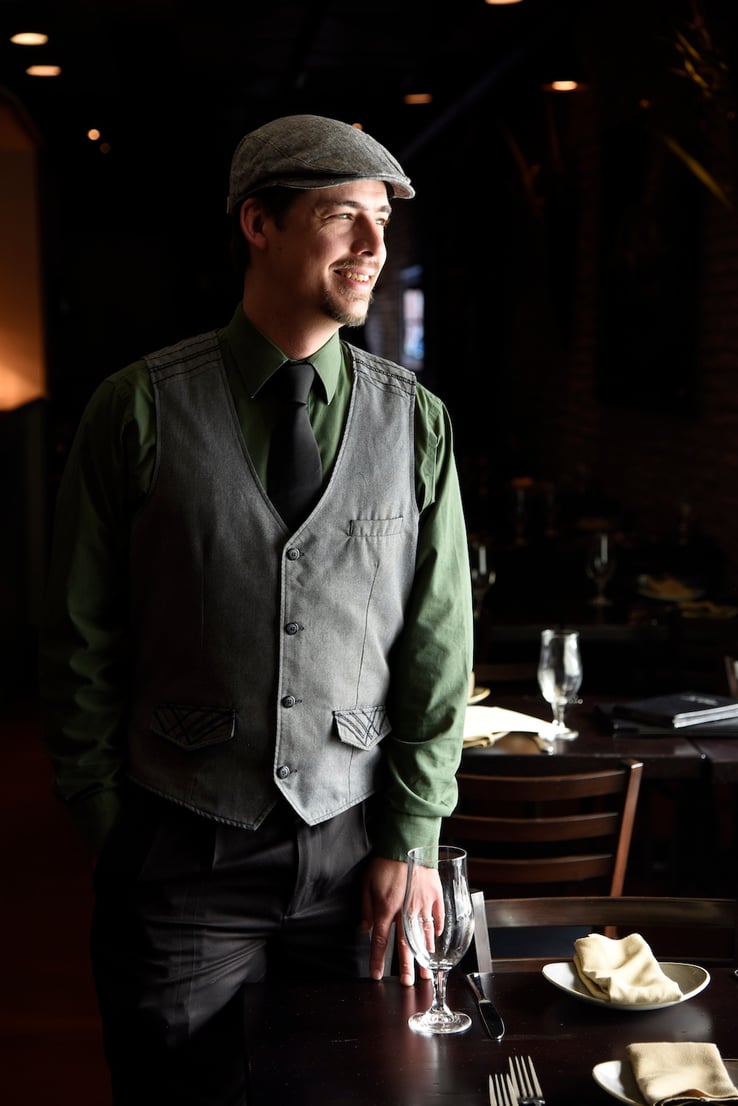 "Two things. Number one is art. I ended up in the restaurant industry by accident, as many people do. I was right out of college, making money waiting tables, flipping burgers. I come from a more artistic background. I was a double music major in college. My dad was a professional artist. Art and music have been two big passions in my life. I love being creative. I think if I didn't have such a need for people, I'm a bit of an extrovert, I would love to be a chef, but I really need to be out here with the people.
I remember working at my first chef-driven restaurant. Having come from a small country town, it was the first time I had ever tasted food like that and it blew my mind, and the presentations were beautiful. And that was when it went for me from just a job to make money, to 'Oh, I love this'. And I moved shortly after this into bartending and that was where I got to start creating. I think some of the artistic side was able to come out. I love to cook at home. When I met my wife, she was working in the kitchen and getting her degree at Sullivan which she finished right after we got married. So, we love to discuss flavors and cook together. I love flavor, I love combinations and well-presented food and drinks."
We are fortunate enough to have been granted some of Isaac Fox's time for this detailed interview about his restaurant. The word "rustic" encapsulates everything done at La Chasse. We hope it's clear to see how Isaac's mission for La Chasse will make you feel like family as you seemingly step outside of Louisville, into another world, and enjoy the best meal of your life.
Follow along on their social channels to keep up with the latest news about their menu, events, and more. Like them on Facebook and follow along on their Twitter and Instagram. You can also sign up to follow their blog to receive exclusive notifications of news and events by email. As always, if you're interested in attending a dinner or want to be put directly on the list, email Isaac@lachasselouisville.com. We hope to see you at the next dinner!