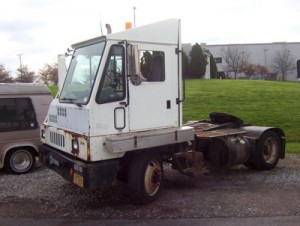 The process of refurbishing an Ottawa Yard Truck is a great way to recycle a fantastic product. In some cases, yard trucks can last up to another decade after refurbishment. This prolongs the service and upholds the standards of quality of the Ottawa Yard Truck.
Louisville Switching welcomes refurbishments and completes all of them right here on the property. If you are still on the fence about whether a refurbish is the right choice for you, Louisville Switching has laid out the process to keep you in the know.
Calling All Candidates!
First, we need the candidate. After the customer supplies the vehicle for refurbishing, we take an extensive look at the inside and outside of the yard truck to determine our best course of action. Should we do a full refurbishment, or simply replace several items? Generally, our questions will be answered during our inspection.
The best candidate trucks will be vehicles that are questionable because of age and wear.
Quality Comes Next
We begin our program with an extensive inspection of the unit to determine the necessary work. We pull fluid samples from the engine, transmission and rear differential and have it analyzed. After this has been completed, we can make recommendations based on our findings and provide an estimate.
Our entire refurbishing production program is at least seven weeks long, which includes one week to paint the yard truck. The yard truck is cleaned inside and out and disassembled. After disassembling the truck, we can now inspect more tediously for anything we may have not been able to see while the truck was in an assembled state.
Areas of the truck are then rebuilt, repaired and necessary parts replaced. The interior of the cab can be completely stripped and cleaned. We can install all new headliners, dash panels, switches, gauges, controls, matting, steering wheel, and seat as needed.
The truck is sandblasted and prepared for exterior painting. The frame, wheels, and cab are then painted. Final assembly with new parts is completed after the exterior painting.
The completed truck is put through "rough work testing" in addition to cosmetic inspection. Final adjustments are made, to include outfitting the like-new vehicle with brand new Ottawa Decals. The truck is now ready for its second life cycle!
Louisville Switching is an authorized Kalmar Ottawa Yard Truck Dealer. If you have any questions about our process, we invite you to contact us about refurbishing your yard truck. Reach out to us today!