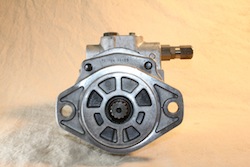 If your Ottawa Yard Truck's hydraulic pump is getting a bit noisy, it may be time to replace it. If it's not holding pressure or oil is not flowing freely from the pump, a service visit may be next on your to-do list.
Whether you are in need of Ottawa or Cummins engine parts, our inventory is stocked with thousands of parts and accessories. We will beat most competitors' cost even with our shipping amount included. Are you in a hard to reach area? Not a problem, we are located right next to the UPS hub in Louisville, KY and are able to ship parts anywhere in the country and throughout the world quickly and affordably.
If your Ottawa hydraulic pump is malfunctioning and needs a service check, click here to schedule an appointment. If you would like Louisville Switching to come to you, our Mobile Repair Truck can come to your place of business and assess and repair most any service issue you may have. Click here to schedule an appointment with our Mobile Truck.
You can also fill out the form to the right to find out the price of the item you need. Also, if you have any questions, call our customer support team, available 24/7.