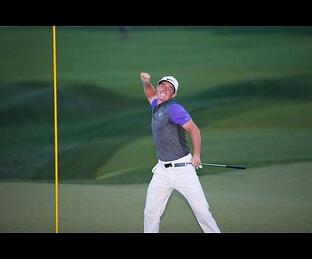 At age 25, Rory McIlroy never thought victory would come so quickly. After a stellar round at the PGA Championship in August, edging out American competitors Phil Mickelson and Rickie Fowler, McIlroy managed to awe onlookers and even himself as he garnered another win on his third consecutive start and fourth major title.
"I never thought in my wildest dreams I'd get here this quickly," McIlroy said just moments after securing a win on the prestigious Valhalla Golf Course.
Fans and volunteers alike were proud to take part in this exciting win and monumental championship tournament. Louisville Switching is one of those vendors who proudly provided services at the course that enabled all of the pieces to come together for a smoothly executed event. Louisville Switching made three visits to Valhalla prior to the beginning of the tournament. Each time a request was made to place specialized trailers such as communication trailers, office trailers or television trailers, into inaccessible locations and positions where road tractors could not be used.
Using the precision of our Ottawa Terminal Truck and a highly experienced Ottawa driver to place the trailers exactly where they needed to go, Louisville Switching enabled equipment and products to be delivered to their appropriate positions with maximum effectiveness. In fact, viewers of the tournament may have spotted a semi trailer out on the golf course during the tournament and wondered how in the world it got there. Louisville Switching put it there.
We were proud to be a part of the PGA Championship and help connect the pieces to create a tournament that was right on par for Valhalla Golf Course and the PGA. If you would like to find out more about how Louisville Switching can help facilitate your next event, click here and a member of our team will follow-up with you on how we can help.