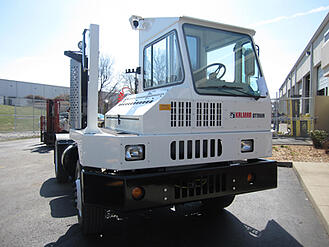 The intricate and elaborate shows at the Palace Theater display workmanship and precision that involves a lot of people working in numerous capacities to pull off these flawless events. Louisville Switching is proud to be a part of the team that works behind the scenes to bring those shows to life.
Through our switching services that are requested by the traveling show and/or their provider, show equipment is loaded into and out of the rear of the building. Only very skilled drivers are able to maneuver the right angle turns of the trailer, and the backing up of the trailer down a narrow alley. In addition to the tight environment of the back alleyways and hairpin turns, overhanging fire escapes also present a challenge for getting the trailer to its designated spot efficiently. Our skilled spotting drivers are able to make these challenging moves down the alley between 3rd and 4th St., all while driving after dark. We have regularly performed these services during the Celtic Woman performance and several other key performances at the Palace Theater.
At Louisville Switching we take our spotting services seriously and our desire is to provide precise and professional switching services for every event. We are pleased to utilize our elevated skill to be a part of the process that results in the fine performances provided by the Palace Theater. If your business is in need of jockeying your equipment and stage materials from truck to venue, click here and we will set up an appointment to discuss the particulars of your next specialized event. We value gaining your trust.