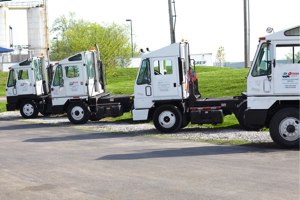 When major events roll into town, lots of equipment comes in tow. Booths, banners, supplies, amps, lighting, are all packed in tightly onto a road trailer and unloaded on-site, time and time again. But what happens when venue docks are located in back alleys or loading trucks are commissioned to simply transport these supplies?
That's where we take over. Spotter trucks are the specialty of Louisville Switching, but when you need more than just a truck, we have got you covered. We provide the spotting truck and the spotting service to help you get your contents delivered and unloaded efficiently. To help you understand a little bit more about how Louisville Switching's Spotting Service can work for your business, we will be running a series of blogs to explain our services and how they can benefit you. This blog is the first in the series on Louisville Switching Spotting Services. Here are the basics about how that service works.
With our Ottawa trucks and skilled drivers, we can position trailers quickly for the loading and unloading of trailers full of equipment, instruments, booths, stages, props, and any other supplies needed to make an event possible. When shows, acts and conventions roll into town, local venues call on Louisville Switching to provide spotting services for venues like the Palace Theatre, the Kentucky Center for the Arts and the Kentucky State Fair Grounds.
We recently provided spotting services for the preliminary work being done to organize the 2014 PGA event being held at Valhalla Golf Course in early August. Louisville Switching was called on to assist with placement of trailers at the golf course.

Spotter trucks are helpful in venues like these because large road tractors can have trouble navigating tight spaces or narrow alleys. Our sleek Ottawa spotters are built specifically for this type of situation. Our drivers are also skilled and experienced in maneuvering these areas. If the delivery driver of the load needs to move down the road, our drivers can help facilitate completing the job.
At Louisville Switching, we can help you facilitate your entire spotting job. All you have to provide is the crowd.
If this sounds like a service that could help your venue or business, contact us today to start the conversation.