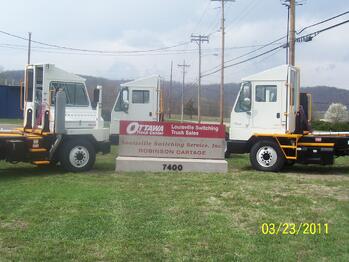 Is your business picking up and you find it's time to add another yard truck to your fleet? Maybe one of your switching trucks is not operational and you need to replace it. When contemplating adding another Ottawa Yard Truck to your business, it's best to examine your options to determine whether it is more beneficial to lease a new truck or a used one. Here are some of the advantages of leasing a full service maintenance Ottawa new and used:
Advantages of Leasing a Used Full Service Maintenance Ottawa:
If financing your used Ottawa, there is no initial outlay of capital for purchase.
Because of our full-service maintenance plan, monthly costs are pre-determined making budgeting more certain. Maintenance expenses do not have to be forecasted.
Personnel resources do not have to be expended to procure PM services, repair services, or parts.
Costs are expensed as opposed to using depreciation over a period of years.
Advantages of Leasing a New Full-Service Maintenance Ottawa:
Fewer service interruptions can be expected when you lease new equipment.
New equipment makes it easier to attract and hire new drivers who prefer newer equipment.
Equipment can be returned at the end of the lease for another new Ottawa to continually operate with new or late model equipment.
Whether you are in the market for a new or used Ottawa, we can meet your needs. Our experienced sales team can explain the full range of options available with each purchase plan and formulate an agreement that best fits your financial goals. For a quote on leasing a new or used Ottawa, contact us and a member of our team will get back with you shortly.