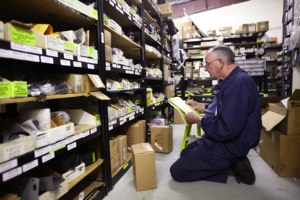 Maybe you are not in the market for a new or leased Ottawa Yard Truck, but need to get your current yard trucks up and running smoothly, our parts department can help. From exhaust parts to switches, gauges or cables, our inventory is stocked with over 3,000 parts and accessories to fix that lagging truck and get it back out in the yard.
We are located in Louisville, KY, as is the UPS Worldport Hub and we can ship parts anywhere in the country and throughout the world quickly and affordably. Click here to see an abbreviated list of some of the Ottawa Yard Truck parts we have available, and click on any of the parts listed to see a picture associated with it. If you can't find what you are looking for, call us toll free 866.879.8659 and we will get you the parts you need, when you need them.
If you have a question concerning your Ottawa Yard Truck, our group of expert mechanics can help diagnose your problem or answer any concerns you might have. Our Service Manager is extremely knowledgeable and our team of mechanics is Ottawa and Cummins certified and can diagnose problems faster than most because of their vast experience in repairing yard trucks. We are proud to use our knowledge to help others and to keep our customers running efficiently.
If you are in need of a part or have a mechanical issue with your yard truck, call us today at 866.879.8659. The greatest part of our parts department is service and professionalism. We're here to help!