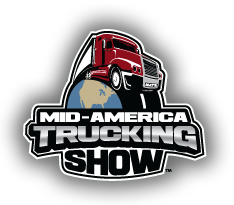 Nearly 70,000 attendees and 1,000 exhibitors from across the country will come together March 27-29 at the Kentucky Expo Center in Louisville, Kentucky for the Mid America Trucking Show (MATS), the largest annual heavy-duty trucking event in the world. This event is more than a tradeshow. It is an annual forum for the trucking industry and provides face-to-face interaction between industry representatives and trucking professionals.
Attendees participate in the MATS to gather information on the latest products and services that could greatly impact their business. Exhibitors flock to the show to introduce new offerings, increase brand awareness, and promote their products. The MATS is where the perfect union of suppliers, customers, and prospects comes together, and where innovative ideas are sparked.
Each year Louisville Switching exhibits the newest Kalmar Ottawa Terminal Trucks at the MATS. We are there this year as always with the new T2 off-road and the new T2 Dot model. We will be in booths 20030-1 and 20050-1.
As the industry's premier business venue, MATS offers attendees the best opportunity to network, research new industry ideas, products and services, and gain insight into current topics with other trucking industry employees from around the world. It has been said of the MATS, "No other show offers more under one roof than the Mid-America Trucking Show."
If you would like to plan to attend the MATS, here is the schedule for the upcoming event:
Thursday, March 27
VIP Session: 10AM - 1PM | General Admission: 1PM - 6PM
Friday, March 28
General Admission: 10 AM - 6 PM
Saturday, March 29
General Admission: 9AM - 4PM
Visit Louisville Switching's Booth!
Louisville Switching will be in booths 20030-1 and 20050-1
In addition to the forum, there will be a concert on Friday, March 28 at 7 PM by Grammy award-winning superstar Gretchen Wilson, which is free to show participants. There will also be a PKY Truck Beauty Championship in the J Lot, directly behind the West Wing and Pavilion. Free-of-charge seminars will be held on a variety of "must know" topics in Room B-104 between South Wing Lobbies A & B. Topics include:
Natural Gas for Freight Haulers-Doing Your Homework

Sleep Apnea-No Rule on Sleep Apnea

Accounting and Finance

CMV Inspection

Increasing Tire Life and Ride Control

Pre-Trip Inspections
This year's MATS is sure to bring a host of special events and educational opportunities which offer insight into current industry issues and bring new and innovative opportunities to connect with like-minded industry professionals. We hope to see you there! For more information on what 's happening or to register for the event, check out the Mid America Trucking Show website.