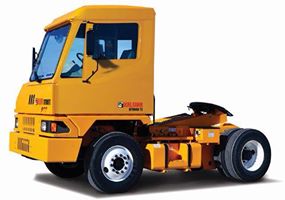 The new year may be nine months away, but Kalmar Ottawa is rolling out the next generation of terminal tractors for 2015.
The Kalmar Ottawa T2 arrived in February after more than two years of in-depth research, creative thinking, and rigorous testing devoted to making the best tractor in the business even better and more suited to the needs of users in the next 10 to 15 years. The new yard tractor has been re-designed and re-engineered to provide superior performance, productivity, and serviceability.
The T2 promises to revolutionize trailer spotting by bringing more order, control, and efficiency to the process. The following features have been integrated into the new design, building on the current attributes and fine tuned over 60 years to bring optimal performance:
strengthened chassis
improved ergonomic cab design
faster fifth-wheel lifting
safety enhancements
easier serviceability
Vice President of Sales and Marketing David Wood says that advance design processes were applied by engineers who consulted on the new design with dealers and customers. "Our engineers (built) a truck that offers superior ergonomics inside the cab for improved driver productivity, easier serviceability and overall better performance."
Kalmar Ottawa Changes That Matter
The re-design of the T2 addresses functional concerns that users have been facing on a day-to-day basis for quite some time. Kalmar Ottawa implemented new materials, advanced computer aided "virtual" design techniques, rigorous testing procedures, and a deep understanding of ergonomics to produce a tractor whose design and construction can contribute directly to the user's bottom line. The resulting piece of work is a masterpiece capable of operating economically and reliably in even more challenging and demanding environments.
The new look of the T2 sports a less angular and more curved body style than before, made for the rigors of the tractor and the tractor operator. With its sturdy construction, this next generation tractor is constructed using a larger complement of advanced composite materials that are said to reduce weight and corrosion possibility, while remaining safe and durable. Frame structure is still made of welded steel, but is enhanced currently with the addition of a Roll-Over Protection System (ROPS) certification as a standard cab feature.
Kalmar Ottawa Trucks are Built to Perform
Built to perform, Kalmar Ottawa trucks continue their 60 year tradition by producing a solid piece of construction designed with the following quality features:
modular chassis
left, right and front modules featuring a formed C-channel powder coated rail design
stronger rail design with better protection against corrosion
improved serviceability
reduced maintenance
shackle links and pins, as well as front spring lubrication are eliminated with parabolic tapered leaf springs
smoother rides
better driveability
pre-drilled powder-coated chassis components
faster fifth wheel lifting speed
spherical bushings on tractor top and bottom
spherical bushings on fifth-wheel lifting cylinders
stronger lower lift support construction
Kalmar Ottawa Tractor is Truly User Friendly
The operator-friendly design of the new T2 has a redesigned cab with more interior room and better visability. The wider door openings provide easier exit and entry. A newly optimized step and grab handle better accommodates cab ingress and egress. Drivers will also appreciate the interior layout designed with enhanced control and convenience in mind. Rocker switches, improved belly clearance in the steering wheel area, suspended brake and throttle pedals, more room behind the driver's seat, and added space on the dash for yard management are all improvements in the interior layout.
Wood believes that the new truck design definitely helps to improve your business' bottom line.
"The entire layout of cab components and environmental systems, such as HVAC, has been enhanced to make it easier and less stressful to operate. And that's as big a contributor to profits and productivity as the functionality and performance of a terminal tractor's hard parts," Wood commented.
This new design also translates into easier maintenance and serviceability, another crucial component of productivity in a fast-paced terminal. The front cab access panel has been redesigned and enlarged so that access is granted with the simple removing of a few bolts. Routine service procedures like oil and transmission fluid checks can be accomplished more quickly and safely now from ground level. Kalmar Ottawa's three-point air suspension system and electric cab tilt will also speed up maintenance and service time, opening the door to enhanced productivity.
Kalmar Ottawa Quality Tractor Remains
Although many new and exciting features have been added to the Kalmar Ottawa truck, the T2 still retains the key features that have made Kalmar Ottawa the best choice for discriminating, demanding users.
"Although revolutionary in nature, the T2 is an evolutionary truck that melds the best from the past with a new design inspired by customer and operator feedback. The T2 is now more durable, serviceable and comfortable to operate, and offers a finely-tuned balance of power, functionality, performance, ergonomics and serviceability," Wood stated.
For all the important changes it brings, the T2 retains all of the key features that have made Kalmar Ottawa terminal tractors the very best choice for discriminating, demanding users. It may look a bit different, but the T2's core personality hasn't changed.
"Since we invented the terminal tractor in 1958, Kalmar Ottawa has established the gold standard for performance and reliability," Wood said. "Invention and innovation go hand in hand, and today we are leveraging our success and technologies to bring our customers the next generation of legendary Kalmar Ottawa trucks."s
As the world's leader in terminal tractors, offering the most comprehensive range of models for warehouse and distribution operations, ports and rail terminals, Kalmar Ottawa's commitment to continuous product development has resulted in another innovative truck that customers can not only depend on, but can utilize to achieve maximum productivity.
If you are interested in buying one of these state-of-the-art trucks to enhance your business, Louisville Switching now has in stock two of the 2014 Kalmar Ottawa trucks and two of the 2015 T2 models are now at our dealership if you would like to examine them personally. Visit Louisville Switching's website for a complete run down of our services and read about our ongoing customer service commitment to our customers.