Louisville Switching is now the proud owner of a new title: OEM Kalmar/Ottawa Dealer. Although the lengthy due diligence process and extensive inspection by Ottawa brings great honor for Louisville Switching, it won't result in a huge change for customers.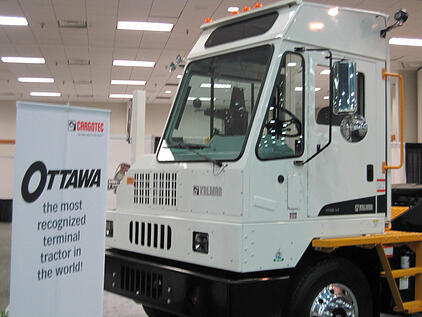 "We were already operating pretty much like an Ottawa dealer for our customers, but instead of being engaged to Ottawa, now we're married to Ottawa," says Louisville Switching President Don Robinson, who has logged more than 20 years with the company.
Robinson emphasizes that Louisville Switching will still be providing the same service, parts, leasing, and rental fleet that our reputation is built upon. The major difference now is that the latest 2014 Ottawa Yard Truck models will be stocked on-site starting in January 2014. Stocking new Ottawas for sale is not something that we have previously done for our customers. New trucks have always been available, but not in stock.
The Ottawa "purpose built truck," built specifically for moving trailers around in yards for short distances, is best known for its maneuverability, time saving capability, and potential to reduce exposure to workman's compensation injuries such as tendonitis from cranking dollies up and down and also slips and falls from climbing in and out of the truck. The newer models will still come standard with the raised roof cab, Cummins diesel engine, and Holland 5th wheel.
Becoming an Ottawa dealer was not a hasty decision for Louisville Switching. They have received offers from other OEM's but have never considered representing any brand other than Kalmar/Ottawa. The Ottawa reputation is what made the difference.
"The quality of the product made us a loyal customer first," says Robinson. We were a spotting service in the beginning and we experimented with all brands of terminal trucks. We developed our loyalty to Ottawa because of its quality and durability that we proved through our own experimentation in the field. We didn't develop our loyalty to a brand because we became a dealer for that brand. We were an end user first and then a dealer. We speak from experience. We have been in your shoes.
To find out how Louisville Switching can help facilitate your short-distance yard truck duties with a quality made Ottawa truck, contact them for more information on how Ottawa trucks can help your business accomplish your goals more efficiently and safely.