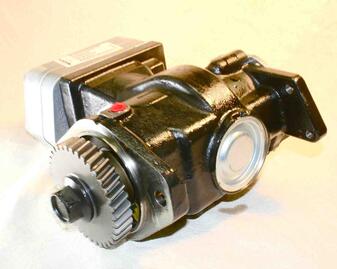 Today we're continuing our series on yard truck parts by taking a look at the Cummis Air Compressor (part # 5286968rx).
The main job of the air compressor is to pump clean air in and to the air dryer. From there, air is pumped to the air tanks which will build compressed air to 120 lbs. At that point, an air governor will shut the air compressor off, and when air is used, the compressor will maintain the pressure at 120 lbs.

This is used for the braking system on the truck and trailer and the air ride system on the cab and seat. If you notice that the air is not building up as quickly as it should, you may have:
a bad air governor
an air leak at a valve
a weakening of the hose or the air compressor
If you notice that something isn't quite right or are experiencing the problems listed above, Louisville Switching can help you diagnose the problem and ship a replacement part to you. Because we're located close to the major UPS air hub, next-day shipping is available to all 50 states and many foreign countries.
If you need a new Cummims Air Compressor or any yard truck part, you can order from Louisville Switching by:

We look forward to helping you!