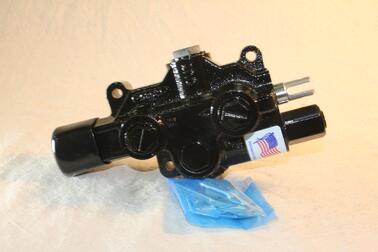 The hydraulic system is powered by a power take off (PTO) which is bolted on the side of the transmission and is ran off the gears inside the transmission. The PTO has a hydraulic pump bolted to it with a shaft that has splines that fit into the PTO. The PTO hydraulic pump pumps fluid throughout the system and to the hydraulic valve.
The hydraulic valve (part #90016497) is located on the left side of frame rail of truck. The valve is controled by a lever inside the cab that is used to raise and lower the hydraulic cylinders, fifth wheel, and trailer when hooked to fifth wheel.
The hydraulic valve allows for proper operation of the hydraulic cylinders that raise and lower the fifth wheel. If the fifth wheel is not properly lifting or is malfunctioning, this part can eliminate the problem.
The proper functioning of your Ottawa Yard Truck begins with individually, properly functioning parts. When your truck fails to operate properly, finding that necessary part quickly can make all the difference in maintaining fluid revenue and stabilizing current work load. Louisville Switching's parts department houses thousands of truck parts that are available for immediate shipping. If you need a part for your Ottawa Yard Truck, you've come to the right place.
If you are experiencing problems with your truck hydraulics like a PTO Hydraulic Pump, Louisville Switching has the part you need. Because we're located close to the major UPS air hub, next-day shipping is available to all 50 states and many foreign countries.
If you need an Ottawa Truck part, there are three ways you can order from Louisville Switching: