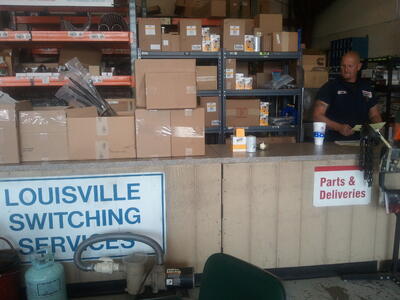 Have you noticed leaking in your yard truck truck brake system or even a malfunctioning of your brakes altogether? You may need a replacement on your Tractor Protection Valve. This protection valve is part of the pneumatic system that maintains the air in the brake system and allows air to pass to the trailer and back to the truck. When this part malfunctions, the air system may leak or fail to release the trailer brakes.
The tractor protection valve has the red and blue air lines connected to it. When hooked up to a trailer and air supplied to the trailer, the red line releases the emergency brakes on the trailer and the blue line is the service brake that will work with the brake pedal for stopping the truck and trailer. The tractor protection is made so that if you lose the air on the trailer you will still have air in the system to stop the truck.
The proper functioning of your yard truck begins with individually properly functioning parts. When your truck fails to operate as it should, finding that necessary part quickly can make all the difference in maintaining fluid revenue and stabilizing current work load. Louisville Switching's parts department houses thousands of truck parts that are available for immediate shipping. If you need a part for your yard truck, you've come to the right place.
If you need are experiencing problems with your truck brakes, Louisville Switching has the part you need. Because we're located close to the major UPS air hub, next-day shipping is available to all 50 states and many foreign countries.
If you need a truck part, there are three ways you can order from Louisville Switching: