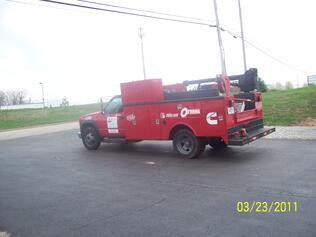 We were talking about some pretty interesting repairs we have made in the past, and one of the stories we told was when we had to replace the hydraulic pump on an Ottawa Yard Truck. It was peak season for one of our clients and they could not afford to have one of their yard trucks down. Here is the catch: it was pouring rain and the repair was done on-site at our client's truck yard. I went with the mechanic and held an umbrella over him the entire time to ensure he could safely and more efficiently work.
Chuck Duggins recalls many times he had gotten back to the shop from an overnight, on-site repair as the other employees were coming in to start their day. Many times he had gotten calls after midnight and had worked through the night to get our clients' yard dogs back up and operational. Chuck said, "There have been times I would run home and clean up and come back in while the other mechanics are coming in. It is what these guys sign up for if they are on-call. We all take on-call shifts and it is important to us that our clients know we are always available for them."

There are many more stories of how we have gone to the extreme to repair our clients' yard trucks. We consider it a privilege to serve our customers. We are always looking at ways to improve our level and quality of service. If you have any stories you want to share with us about how we have stepped up and gone above for you, let us know. Thank you for letting Louisville Switching serve you.