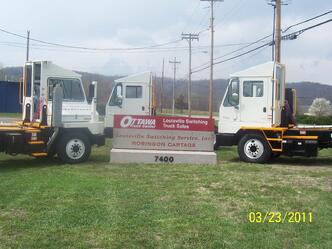 Most times, Louisville Switching can repair your yard truck right onsite. Save yourself the down time and the expense of the tow. With our mobile repair vehicles, we have most every tool we need to handle even the toughest jobs. We have cranes, mobile welding equipment, and much more. Our mechanics are Cummins and Ottawa certified. Never take your yard truck to a shop that doesn't specialize in yard trucks. We can't tell you how often those shops call us because they are stuck and Louisville Switching is the expert.
We never pay commission to our mechanics because we believe that we may have seen evidence from other shops that this practice may lead to something other than the customer's best interest being served. Our mechanics are honest and are paid salary. They want to serve you with excellence and give you the best service experience on the planet.

When you tow your yard truck, you lose the time of transit, the time it is in a repair shop, and the time you have to get it back to your facility. When we show up with our mobile repair vehicles, we get you up and running faster and save you the expense of towing. It is an easy decision. Call us today and set up your repair or your preventative maintenance program. Time is money and we want to save you both!

Thank you for the honor of serving you. We look forward to your call and we promise you will always speak with a person and not a machine!