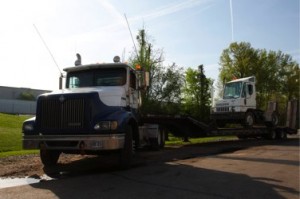 Louisville Switching offers many services beyond refurbishments, rebuilds, and new sales of Ottawa/Kalmar trucks. In fact, our cartage business, Robinson Cartage, is a division of Louisville Switching and offers many benefits and services to our customers.
Robinson Cartage started with the Greater Louisville area cartage authority. Our cartage services have grown to include customized cartage services for our customers. Years ago, authorities to perform trucking services could be purchased incrementally. The last authority that you could get would be for a metropolitan area. "Issuing authorities" was handled by the government, so you can imagine how smooth, convenient, and logical that process was. I don't think that you can even get a metropolitan authority anymore.
Needless to say, our cartage services have grown over the years to include customized cartage services for our customers.
This service is great for short runs, especially if you need to move large equipment like backhoes, bulldozers, and similar equipment across town. Or, if your equipment suddenly breaks down and you need it transported somewhere for service, we can help with that as well. Steve, our dedicated driver, is an experienced professional when it comes to hauling equipment.
Check out some of the other out-of-the-box services we offer and contact us if our cartage services could be of service to you.