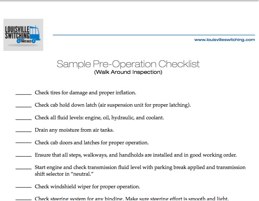 About a year ago, we introduced a free guide on our website called the Ottawa/Kalmar User Guide. You can download it for free here.
This guide has been a popular download over the last year, but for some reason, it's been really popular this winter. We've had several folks download it recently, and we wanted to give you a chance to do the same.
In the guide you'll get three forms:
A pre operation safety checklist
A pre operation inspection list
An operator evaluation form
If you're a safety manager, general manager, facilities manager, or owner of a distribution center, then this guide is for you. It will help you understand how Ottawa Terminal Tractors (aka yard dogs) can make your business more efficient and safer. We're certain those are two hot buttons for many of you. This is a great conversation starter, if you're just beginning to research Terminal Tractors. Take a few seconds and get your copy today!
With our leasing customers, and those who choose to purchase an Ottawa/Kalmar Truck from us, our sales manager Chris Troutt typically does an onsite training. In the future we may try and share a video from one of our sessions. With the permission of our customer of course.
If you're beyond the research stage, the next step is usually an onsite demonstration of an Ottawa Truck. There's no obligation.
P.S. In other news be on the lookout for our first ever Louisville Switching newsletter in February.