At Louisville Switching Truck Sales, service is very important to our customers and thus very important to us. Our mobile service trucks and parts/delivery truck make it possible for us to service customers on site. Sure there are still times when it makes sense to haul your truck back to our service bay, but many times service can be done in the field.
Our new mobile service truck is unique in it's ability to change oil through a closed loop system. The truck vacuums the oil out through a connector hose and then refills it. It's equipped with oil tanks on each side of the truck for this purpose. We were excited about our new truck and we hope our customers will be as well.
Another part of servicing customers, is delivering parts when you need them most. Our parts and delivery truck is also pictured below. We'll put some miles on this truck keeping our customers stocked with the parts they need.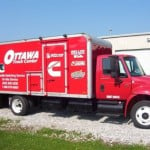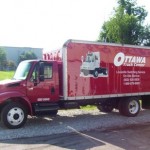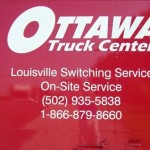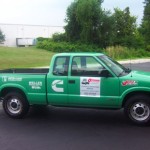 What type of parts do we sell?
We're glad you asked. We sell Insta Chain Automatic Ice-chain Parts, Interstate Batteries, Ottawa Truck Parts, Cummins Diesel Engine Parts, Jasper Engines and Transmissions, Weller Reman Truck Parts and many other misc Truck Parts,
If you're in the market for any of these, we'd love to earn your business.