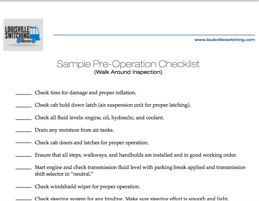 Louisville Switching has been in business for more than 30 years. We've learned a lot and have grown to become one of the most trusted sources for leasing and selling Ottawa/Kalmar trucks. We've compiled some of what we've learned into a user's guide, created especially for safety managers, facilities managers, logistics managers, or current Ottawa/Kalmar users. This guide offers ways to help you reduce workmen's comp claims and increase the efficiency of your yard operation. The Ottawa/Kalmar User's Guideincludes:
A pre-operation safety checklist

A pre-operation inspection list

An operator evaluation form
The Ottawa/Kalmar Truck User's Guide will help you:
Create a safer operator experience

Keep tabs on your Ottawa/Kalmar Truck for maintenance purposes

Train new operators to be proficient prior to field use

Increase efficiency in the use of your Terminal Tractors
Download the guide today and let us know if you have any other questions—we'd love to hear from you. Once you fill out the registration form you'll be added to our monthly newsletter so you'll stay connected with us on a more regular basis. Enjoy the guide!