Insta-Chain is a customer-driven company and a believer in the principles of hard work, innovation, and integrity. As a dealer of Insta-Chain, Louisville Switching is a believer in the product that they make. Fill out the form to download the Insta-Chain brochure.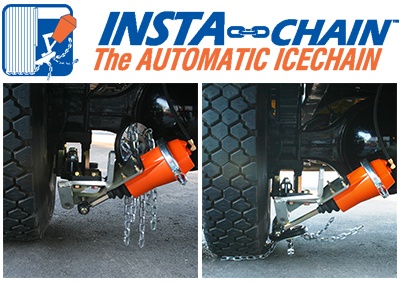 These automatic ice chains go to work with the flip of a switch; drivers do not ever have to leave the seat of their truck to turn on the chains. When snow and ice threaten driving safety, Insta-Chains are a reliable way to gain traction while driving in unsafe conditions. Insta-chains work:
While your vehicle is in motion
At the flip of a switch
Without the hassle of manual installation
In all weather conditions for proven traction and braking
In forward or reverse with increasing traction acceleration and deceleration
Only when you need to so you can save wear on your tires and the road
In accordance with half ton Class 8 vehicles
With gasoline and propane delivery trucks with our spark resistant chains
On all DOT accepted trucks in states with chain laws
To reduce risk, incident, and cost
On school buses, ambulances, fire trucks, semi trucks, tour buses, transportation buses, garbage and waste trucks, snow plows, utility vehicles, and personal pick-up trucks
Check out the video below that shows the automatic ice chains in action and contact Louisville Switching to find out how we can help assist you in winterizing your yard truck fleet.