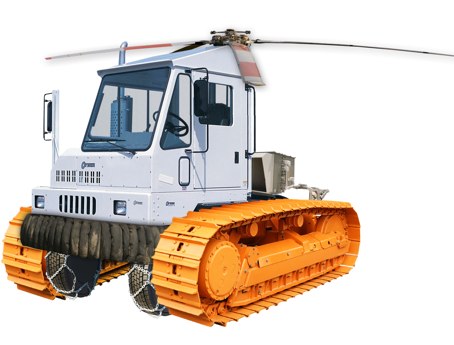 We told you a few months back about the Invincible Ottawa(It's able to leap tall buildings in a single bound ). After purchasing the Invincible Ottawa you'll never need another spotter truck for your business. The helicopter blades on the Invincible Ottawa work great for those tough to reach jobs like mountain tops. The Invincible Ottawa also comes with hover craft functionality. Have a job halfway down the Mississippi? No problem. The dozer tracks and ice chains make any surface negotiable. Thinking about expanding business into the Artic or the Sahara, think no more. No climate is too tough as our Invincible Ottawa comes with a complete HVAC system on the back. Heat Pump and Geo Thermal controls make it easy to take your Ottawa from one end of the globe to the other.
Most of our customers realize that we sell and service Ottawa Trucks. They also know they can call us to order parts for those trucks but they don't always realize we do other things too.
When we say other things we mean: mobile welding, semi-trailer maintenance, Cartage services, or general truck repairs and maintenance.
Many have no idea that we have the ability to buy and sell used vehicles and to do service work onsite with our mobile service trucks.
We are going to use our new blog to highlight lesser known services we've added to our quiver over the years.